The Dresden Center for Nanoanalysis (DCN) is an interdis­ciplinary technological platform of Technische Universität Dresden and the Center for Advancing Electronics Dresden (cfaed) in the field of nanoscale materials analysis. The vision of the highly motivated DCN team is to establish it as an internationally visible center of competence in the field of 4D materials analysis as well as an European user center.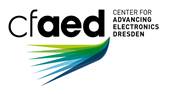 Leading-edge research is performed in the field of three-dimensional imaging and analysis of kinetic processes in materials and structures down to the atomic scale. The first research projects of the newly formed center focus on the study of solid-state physical phenomena and processes in innovative electronic devices based on one-dimensional nanostructures such as silicon nanowires and carbon nano-tubes as well as nanoscale sensors. These devices are expected to have a much higher perfor­mance than current CMOS devices and sensor systems. The analytical results will be interpreted jointly with researchers of the Silicon Nanowire and Organic Paths.
In November 2013, two novel analytical tools, a scanning electron microscope with a focused ion beam (SEM/FIB) and a sub-micrometer X-ray tomograph, were installed. The DCN team works closely together with non-uni­versity institutes in Dresden, linked within the so-called DRESDEN-concept. The strong collaboration with the Dresden Fraunhofer Cluster Nanoanalysis (DFCNA) is particularly focused on applied materials-related research for a broad range of new applica­tions in the fields of automotive, mechanical engineering, logistics, energy, sensor technology as well as medical engineering and health monitoring. Strategic partnerships with innovative companies have been established to align the research on industrial needs.
---

Announcements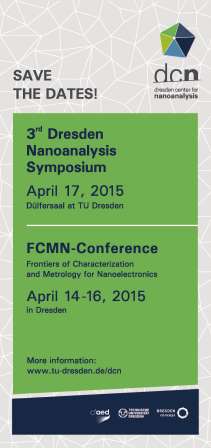 2015 Frontiers of Characterization and Metrology for Nanoelectronics (FCMN): 14 - 16 April, 2015
The semiconductor industry faces significant challenges to continue increasing performance and functionality of information processing. New and improved metrology and characterization is required to support these advances in density and functionality. We bring together scientists and engineers interested in all aspects of the characterization technology needed for
nanoelectronic materials and device research, development, and manufacturing.All approaches are welcome: chemical, physical, electrical, optical, in-situ, and real-time control and
monitoring. The conference summarizes major issues and provides critical reviews of important semiconductor techniques needed as the semiconductor industry moves to silicon nanoelectronics and beyond.
www.tu-dresden.de/dcn/fcmn

3rd Nanoanalysis Symposium: 17 April, 2015
with speakers from NCBiR Warsaw, IBM Research, Stanford University, CEA LETI MINATEC Campus, University Lisbon, University Jena, FEI, Globalfoundries and Fraunhofer.
Call for Paper
Submissions for the 3rd Dresden Nanoanalysis Symposium are possible until 27 February, 2015. get more information
---
Dresden Fellow-Lunch 23 June 2014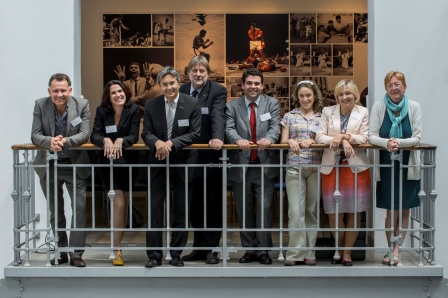 The Rector of the TU Dresden, Prof. Dr.-Ing. Hans Müller-Steinhagen, and the Vice-Rector for Research of the TU Dresden, Prof. Dr. Gerhard Rödel, cordially invited to a Lunch Meeting in the ALTANAGalerie with the Dresden Fellows, their Host Professors and the Spokespersons of the respective Schools of the TU Dresden.
The Guest Researchers that are currently visited the TU Dresden within the DRESDEN Fellowship Programme were given the opportunity to get to know the TU Dresden as well as one another. In order to encourage fruitful exchange and lively discussion, the DRESDEN Fellows and/or their Host Professors were invited to shortly present themselves and their research topics. Some of the following questions has been addressed: How would I phrase my research in one sentence? What makes me so passionate about my research? What are the differences between my home university and the TU Dresden? How were my experiences at the TU Dresden so far? What impulses for intensifying collaboration and developing strategic cooperation can this Fellowship have? If I had one wish for my stay at the TU Dresden, it would be …
It was an interesting get together and enjoyable discussions.
Please find some pictures of the event here: http://tu-dresden.de/exzellenz/bilder/bildergalerien/DRESDEN_Fellows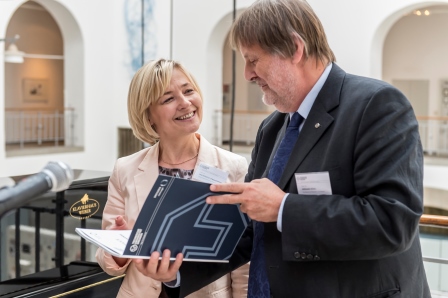 Malgorzata Lewandowska – professor at the Faculty of Materials Science and Engineering of Warsaw University of Technology, was one of the invited guest reseachers. She is a guest scientist at the DCN from June to July 2014. Her scientific interest is focused on ultrafine grained and nano-crystalline materials. The goal of her research stay is to establish a closer collaboration between the Warsaw University of Technology - Faculty of Materials Science and Engineering - and the Technical University Dresden - Dresden Center for Nanoanalysis - in the field of nanostructured materials and their characterization applying advanced analysis techniques including high-resolution electron microscopy and X-ray microscopy. Nanostructured materials have attracted significant scientific interest due to their superior mechanical and physical properties. They are prospective for a number of applications, including leading-edge electronic industry. Particularly, the microstructure of advanced on-chip interconnects has to be engineered to fulfil performance and reliability requirements for advanced electronic products. For this field of research highly sophisticated materials analysis techniques are needed, e. g. high-resolution electron microscopy and X-ray microscopy to understand microstructural factors influencing the properties of nanostructured materials.
---
Review - the 2nd Dresden Nanoanalysis Symposium
The 2nd Dresden Nanoanalysis Symposium (DNS), has been organized by the Dresden Center for Nanoanalysis at Technische Universität Dresden and the Dresden Fraunhofer Cluster Nanoanalyis and has been held in Dresden, Germany, on July 2, 2014. The workshop provided a forum for presenting current research and for discussions on issues related to nanoanalysis and its applications in materials science and engineering, advanced electronics, energy research and other fields. Following the spirit of previous workshops, new research results and advances in basic understanding were be emphasized. Participants of the 2nd DNS were also invited to visit the Nanofair 2014 event, which was jointly organized with the 2nd DNS and took place at the same time.

With round about 100 participants the 2nd DNS was again a sucessful event! Thanks to all our sponsors and the organisation team of the Nanofair!
Impressions of the 2nd DNS: here
| | | | | |
| --- | --- | --- | --- | --- |
| Prime sponsors: | | | | |
---
Impressions of the DCN

Research Group

Linda Kriusk, Alexander Tahn, Sayanti Banerjee, Jin Huang, Markus Löffler (f.l.t.r.)


Official Opening Ceremony
Ehrenfried Zschech (DCN), Gerhard Fettweis (Coordinator of the cfaed), Serge Haroche (nobel prize winner in physics 2012), Hans Müller-Steinhagen (rector TUD) - (f.l.t.r.)

Exhibition
The DCN with a booth at the Vision Keramik at the Fraunhofer IKTS in Dresden