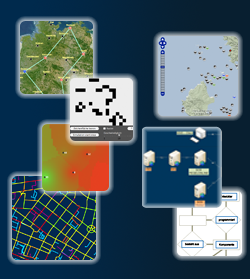 The Professorship of Geoinformation Systems offers introductory and advanced courses on various Geoinformatics topics. Currently coursed are offered to students in geodesy, geography, hydrology, cartography, spatial development and natural resource management and media informatics. Furthermore, since winter semester 2011/2012, a master program (Master of Science) for geoinformation technology is offered.
Beside the basics of geoinformation science the focus is on geosoftware development and geodatabases, the practical application of GIS and Spatial Data Infrastructures.
The imparted knowledge from the lectures can be improved by interactive learning programs (techlets). Lecture materials and techlets are available on the OPAL platform. Furthermore, finished diploma, master, bachelor or project theses can be made available.