In 1828, the King of Saxony founded a "Technical School" in Dresden (since 1890: Dresden Technical College). During an era of progressing industrialization, growing business and trade, its cosmopolitan and practically minded scientists contributed to Saxony's start-up to one of Europe's most modern and economic powerful areas.
Fig.: steam locomotive "Saxonia", constructed by J. A. Schubert in 1838 in Dresden-Uebigau
The innovations in traffic and circulation of those times are closely connected to important personalities as Friedrich List (1789-1846) and Johann Andreas Schubert (1808-1870). In a time of obsolete small state policies in the territory of the old German Empire, the economist Friedrich List pursued the vision of a united nation. To support the inter-connection of Germany's states, he designed an Inter-German railway network system and contributed the genesis of the first German overland railway line from Leipzig to Dresden in 1838, which was part of his railway network system. Johann Andreas Schubert, a universal engineer and professor at the Technical School constructed the first "German" steam locomotive (based on British know-how), blueprinted the first steam boat for passenger transport on the river Elbe and two important railway bridges (e.g. Göltzschtalbrücke, the biggest brick bridge in the world, 547 m long).
New ground in academic culture was broken in 1949: A new faculty was found at the Dresden Technical College (since 1961: Dresden University of Technology) - a faculty of traffic and circulation sciences, dealing with in an integral and systems-scientific view on Transport and Communications. This new method had been continued, when the faculty was transformed into the "Friedrich List" University of Transport and Communications Dresden (UTCD) in 1952 (epithet "Friedrich List" in 1962). The former UTCD was well-known as Germany's first and only universitary research and education centre of transport and communications sciences inside Europe and beyond. In 1992, the UTCD had been re-transformed into the Faculty of Traffic and Transport Sciences at the Dresden University of Technology.

(More Information about UTCD can be found: Tradition Homepage of Dresden Transportation and Traffic Sciences, German language only.)

Since 1992, the "Friedrich List" Faculty of Transportation and Traffic Sciences has been continuing the long tradition of widely known scientific work as part of the Dresden University of Technology.

Fig.: Logo of the former UTCD
Dealing with all means of transport: Land Transport, Aviation, Logistics - Engineering and Economics
We orientate towards the complexity of traffic and circulation processes through our inter-disciplinary profile and tribute to the dynamic challenges of transport and communications markets - on the way to a sustainable development of all means of transport, communications and infrastructure systems. We are very proud of our about 30 chairs, which work together in 10 institutes, forming a research and education cooperation in transport and communications economics, traffic engineering, infrastructure planning and vehicle construction. This great variety obtains the ability to cover a lot of spheres of our scientific area. Therefore, we are the largest academic centre of traffic and circulation sciences in Germany. Our working area extends from basic innovation research to scientific accompaniment of projects, real condition experiments and applied scientific tasks in successful cooperation with well known research and practise partners. As well as transport and communications itself, our actions don't end at nations borders. By international orientation, projects and cooperation with scientific institutions and practise partners from all over the world we get a lot of reputation - corresponding to our demand of an innovative and forward-looking research and education institution.

Fig.: Potthoff-Building in panorama
Unique Training and Education offers best conditions for professional and scientific development
Every year, lots of young people from all parts of Germany, from particular countries of Europe and other parts of the world start their studies at our faculty. They can choose between the study program either Traffic and Transport Engineering or Transport and Communications Economics. Since its introduction in 1952, the subject Traffic and Transport Engineering has been becoming a speciality of our faculty - as a unique education offer in Germany's academic community. Through orientating educational contents to economic, technical and social correlation, cause and effects of the floating processes and circulations of persons, material and information we translate our goal of a complex and inter disciplinary education into action in both subjects. In addition we offer inter disciplinary studies in transport mechanics and infrastructure construction together with other faculties of the Dresden University of Technology, e.g. faculty of civil engineering, faculty of mechanical engineering, faculty of electrical engineering and information technologies. The modern equipment of our faculty offers best working conditions for research as well as for education, facilitating high quality research results and best learning success. For example, the faculty provides an Integral Railway Laboratory - a special model railway for simulating technological and technical components of railway operation and management. Moreover, a systems laboratory for gauge guided vehicles (e.g. railways, tramways) as well as several measuring and test beds and laboratories are available for scientific work.
Scientific centre for transportation and traffic sciences in Germany and Europe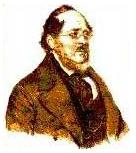 Friedrich List (1789-1846)
Close partnerships to the other 13 faculties of the University of Technology Dresden are required for high standards in scientific work. Forming a unique education and research centre of traffic and circulation sciences at the Dresden University of Technology and putting our know-how to create networks into the various academic life of our Alma Mater, with pleasure we contribute to the profiling one of Germany's most renowned universities. A lot of advantages for the scientific work of our faculty result from Dresden's location: As an important traffic node of Europe's west-east and north-south corridors, the city and its suburban surroundings are interesting application objects in research and education. Our international engagement bases at least on the unique location of this scientific place: in the heart of Europe and near the interfaces of the regions of western and central Europe as well as the new member states of the European Union.
Contributing to the naming "Friedrich List" - thinking and acting beyond existing borders and barriers, we see us as coordinator of an international and especially European orientated traffic and circulation scientific community. We built bridges to all directions by finding new cooperation partners and by fostering existing contacts.
Our faculty will be your trust-worthy, competent and reliable education and research partner in all parts of traffic and circulation; transport and communications
WIR BEWEGEN DIE WELT.
MOVING THE WORLD.
Dresden University of Technology "Friedrich List" Faculty of Transportation and Traffic Sciences, 01062 Dresden