The basic goal of the Research Data Centres of the Statistical Offices of the Federation and the Länder is to improve the accessibility and
usability of microdata of official statistics by setting up various ways of using the data.
The Statistical Office of Saxony has established a branch office of the
Research Data Centres at TU Dresden.

Visiting Scientists can use a work station to get access to microdata.

The branch office is located at:
Technische Universität Dresden
Chemnitzer Straße 48a
Room 206
01187 Dresden
Tel.: +49 (0) 351 463-42279
and is open on Monday and Wednesday.
Please contact the office for other appointments.
The offered microdata can be divided into the following fields:
Health and Social Statistics,
Household and Population Statistics,
Economic Statistics,
Financial and Tax Statistics,
Judicature Statistics and
Agricultural and Environmental statistics.

In the Statistical Office in Kamenz and in the Dresden branch the entire microdata can be used. On the workstations for visiting scientists, the
anonymized data can be analyzed by SPSS, Stata and SAS.
The focus of the Research Data Centre in Saxony is the consulting service and preparation of microdata in the fields of health and social
Statistics.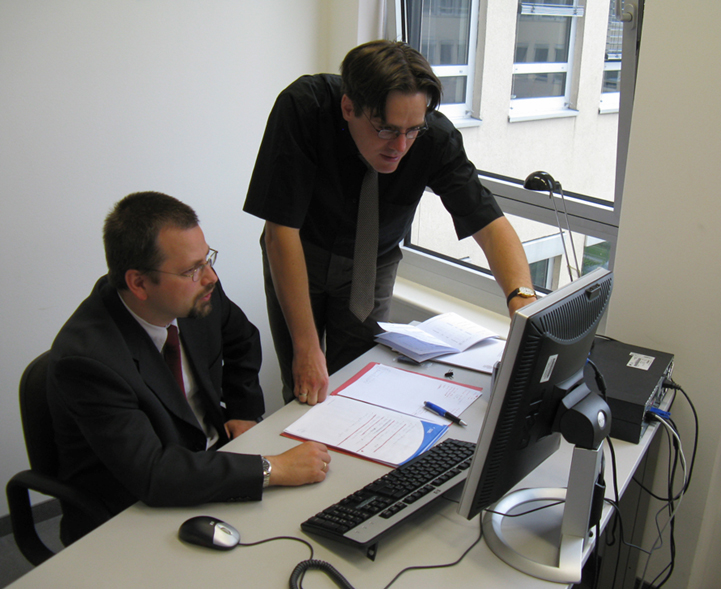 v.l.n.r.: Dr. Olaf Schoffer, Dr. Urban Janisch
Contact:
Dr. Urban Janisch
Tel.: +49 (0) 3578 33-1430, -1440,
+49 (0) 351 463-42279
Fax: +49 (0) 3578 33-552295


forschungsdatenzentrum@statistik.sachsen.de.
Detailed information about the Research Data Centre as well as information about data services, possibilities for data-use and other contacts, see: www.forschungsdatenzentrum.de.