ENERDAY 2016 - 11th Conference on Energy Economics and Technology
"ENERGY EFFICIENCY AND DEMAND RESPONSE"
[Thank you to all participants of ENERDAY 2016]
[Award ceremony at ENERDAY 2016]
[General Information]
Thank you to all participants of ENERDAY 2016
On 8 April 2016 the Chair of Energy Economics at Technische Universität Dresden organized the 11th Conference on Energy Economics and Technology (ENERDAY 2016). The conference addressed challenges with regard to energy systems, markets and policies. The overarching theme of this year´s conference was "Energy efficiency and Demand Response".
This year a record number of over 160 participants were in attendance. National and international representatives from science, industry and politics participated and contributed in large measure to the success of ENERDAY 2016. The feedback from the participants was overwhelmingly positive. The general sentiment from those attending was that the conference was a very interesting and well-organized event.*
We would like to thank all participants and especially the keynote speakers and presenters for their interesting presentations and providing for a lively exchange of ideas and experiences. We truly appreciate the great interest in our conference.
Special thanks go out to the sponsors who made this successful event possible: DREWAG and Robotron.
We hope ENERDAY 2016 has been a memorable experience for all of you and hope to see you again at EEM 2017 and ENERDAY 2018.

* Extract of the feedback from participants at ENERDAY 2016

"Wide field of experts in DR, good balance between research and industry partners"

"Great way to connect with different people of different/international backgrounds"

"Very precise topic of the conference and thus all participants have already good basic knowledge about the topic"

"Two conference dinners for better getting in contact with the others"

"Excellent opportunity for networking (with the two dinners and sufficient breaks)"

"Very interesting topics, attendants and great atmosphere"

"Interesting topic, several points of view presented, nice schedule organization"

"Great variety of topics and participants"

"Very kind staff and great organisation"

"Many young researchers"

"Easy to get in contact with each other. Good, that you keep it international"

"Friendly atmosphere and lots of scientific input out of research"
Thank you very much for your valuable feedback and suggestions!
--------------
Award ceremony at ENERDAY 2016
One of the highlights of this year's ENERDAY was the award ceremony at the conference dinner. The association enerCONNECT - Verein zur Förderung wissenschaftlicher Arbeiten in der Energiewirtschaft an der TU Dresden e.V. awarded four cash prizes of 150 Euros:
The two cash prizes for the best scientific contribution were awarded to
Tugba Somuncu for her presentation entitled "Can Energy Efficiency Save Energy? An Economy-Wide Rebound Effect Simulation for Turkey" and
Tobias Boßmann for his presentation entitled "Future load shift potentials of electric vehicles in different charging infrastructure scenarios".
This award was first introduced at ENERDAY 2015 and is selected with the help of a scientific advisory team. The contributions are evaluated based on various criteria including thematic relevance with the main topic of ENERDAY, applied scientific methodology, informative value of the results as well as the presentation skills of the speaker.
The enerWard for the two best master or diploma theses at the Chair of Energy Economics was awarded to
Simon Schulte for his thesis "Development of a European natural gas market model for the security of supply analysis – Potential impacts of the Russia-Ukraine conflict on the European Union security of supply" and
Philipp Feister for his thesis "Strategic Behavior in Global LNG Markets: Outlook for the Asia-Pacific Region".
Master and diploma students are encouraged to submit their thesis (finished in the previous year) to be considered for the enerWARD. The two prize recipients are then invited to present their results at the annual ENERDAY conference. Congratulations to the winners!
Additionally, we would like to thank all speakers for their very interesting presentations, which were essential in making ENERDAY 2016 a tremendous success!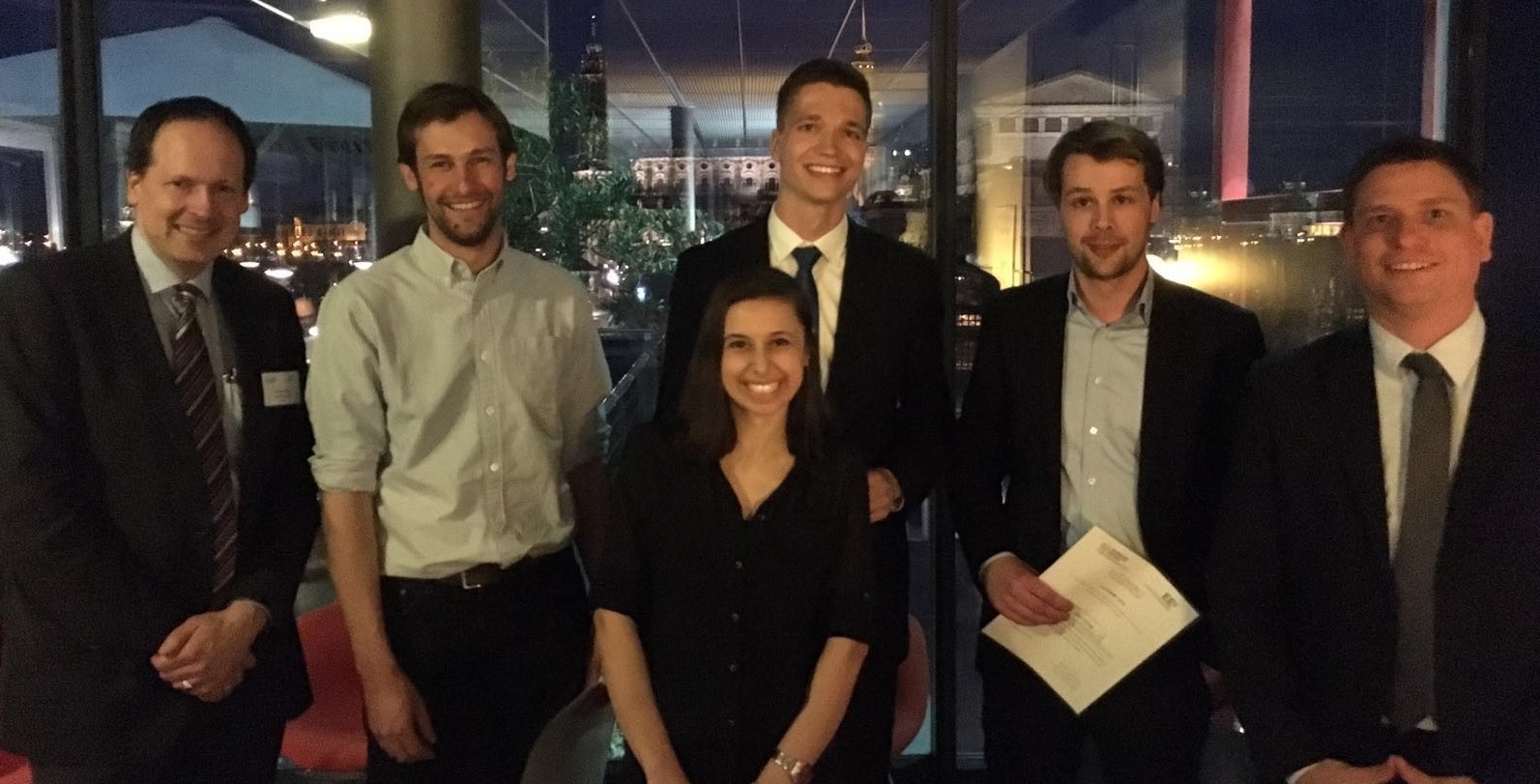 --------------
We cordially invite you to participate in the 11th Conference on Energy Economics and Technology to be held in Dresden, Germany on 8 April 2016.
Since 11 years the Chair of Energy Economics (EE²) at TU Dresden holds the Conference on Energy Economics and Technology (ENERDAY). The conference with its more than 130 participants every year is becoming increasingly popular. It provides a common platform for sharing experience in the field of Energy Economics and Technology and for engaging in discussion with international representatives from science, industry and politics.
The conference language of ENERDAY 2016 is English. This year's conference topic is "Energy Efficiency and Demand Response".
- How to further stimulate energy efficiency measures and how can barriers be overcome?
- How flexible is the demand side in a long and short-term horizon and how can the flexibility potential be leveraged?
- What role does demand response play with regard to power prices and the integration of renewables?
- What are the current and future key technologies in this context?
- And what technologies may be important in accompanying these efforts, e.g. storage?
Date

Friday, 8 April 2016

Location

Technische Universität Dresden
Faculty of Business and Economics
Faculty Assembly Hall (Festsaal der Fakultät)
Schumann-Bau / Hülsse-Bau
Münchner Platz 3
01069 Dresden, Germany

Contact

Mandy Bauer

Technische Universität Dresden
Faculty of Business and Economics

Chair of Energy Economics (EE²)
01062 Dresden, Germany


enerday@ee2.biz

phone: +49-(0)351-463-39771
fax: +49-(0)351-463-39763

Submission

Deadline for the submission of abstracts is 8 February 2016. Please send an extended abstract (in Englisch, about 300 words, including a short CV) as a word-file to enerday@ee2.biz. Please use this template (pdf version) foryour submission.

You will receive a notification of acceptance by 29 February 2016 at the latest. Accepted abstracts will be provided in the Book of Abstracts.

A full version of the paper and presentation can be submitted until 8 April 2016 to be published on the website.

Registration

Registration is possible until 1 April 2016.

Deadline for Early Bird Registration: Tuesday, 1 March 2016
Deadline for Standard Registration: Friday, 1 April 2016

For more infomation please click here.

Important Dates

Call for Papers
Nov 2015
Abstract Submission
08.02.2016
Abstract Notification
29.02.2016
Full Paper Submission (voluntary)
08.04.2016

Early Registration Deadline
extended

01.03.2016

08.03.2016

Standard Registration Deadline
01.04.2016
Conference
08.04.2016
This event is supported by TU Dresden Institutional Strategy, financed by the Excellence Initiative of the German federal and state governments.
Kindly supported by