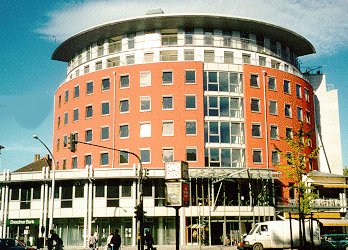 Office Building Nürnberger Ei

The Institute of Construction Informatics in the TU Dresden was founded in the year 1986 as a professorship for Computer Application in Civil Engineering. Prof. R. J. Scherer is the director of the institute since the year 1994. Currently, more than 20 scientific assistant do research in the institute, in the field of information technology in Civil Engineering, in interdisciplinary teams. Each team consists of Civil Engineers, Architects, and Computer Scientists. The main research topics are: Building Information Modeling, the modeling of (building, construction site, and project), information logistics, distributed systems, and conceptual modeling methods. The institute coordinates several EU projects and BMBF joint research projects, among others the current BMBF project "Mefisto". The continuous cooperation with the industry, and accordingly, the dissemination of the research results are documented through the active involvement in standards bodies and work groups from industry and research associations. The institute has a leading position in the DIN, ISO, IAI, EAPPM bodies, as well as, in several international journals that support the transfer of knowledge and the standardization.
You can find us in 2. floor. Entrance from Bernhardstraße.