WELCOME TO OUR INSTITUTE

The Institute of Waste Management and Contaminated Site Treatment was established in September 1995 by the joint initiative of the Chair of Waste Management and the Chair of Groundwater and Soil Remediation.

The institute represents a branch of the Technische Universität Dresden as being located on the picturesque Elbe River banks in Pirna-Copitz (about 25 km SE of Dresden). On the site in Pirna the institute consists of modern laboratories, lecture rooms and large spatial capacities for research activities.

Since the activities of the two chairs have been united, a broader spectrum of environmental aspects can be covered. This is reflected in multidisciplinary approaches from natural sciences, engineering and economics of waste management and remediation of contaminated sites. Especially the interdisciplinarity of our research topics plays a major role in the specialized education of our students.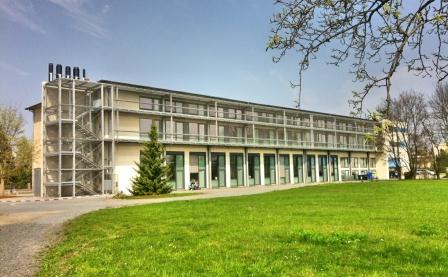 institute building in Pirna-Copitz 2013

Education

The institute offers a study course for Master degree in Waste Management and Contaminated Site Treatment. Further lectures are offered among others for students of Urban Water Management, Civil Engineering, Industrial Engineering with Business Studies, Geography, Biology and Informatics.

---
Laboratory of the institute:
- confirmation of participation interlaboratory test "elution of solids" (DIN 19528 und 19529, document only in german language)
- overview about our analytical attainments (document only in german language)


---
Chair of Waste Management
Prof. Dr.-Ing. habil. Christina Dornack
Head of the Institute

Waste to Energy
Biogas, Refuse-Derived Fuel (RDF), Biomass-to-Liquid (BtL) production, increase in efficiency

Materials and circular flow
Efficiency of resources, improved recycling, minimisation of pollutant transfer

Problems of Recycling Management of materials and matters
Origin, release, transport and effects of pollutants, risk assessment and long term behaviour of contaminants

---
Chair of Groundwater and Soil Remediation

Remediation and risk assessment of contaminated subsurface
Natural Attenuation processes in the subsurface, methods for microbiological in-situ remediation, monitoring of contaminated sites (mineral oils, PAHs, chlorinated solvents, mono aromatic compounds, fuel additives [MTBE, ETBE] etc.)

Integrated water resources management
Artificial groundwater recharge, groundwater monitoring, ecological restoration of urban surface waters, domestic wastewater management in developing countries, contaminants removal from industrial wastewater

Soil remediation in mining industry
Bioleaching of heavy metals contaminated soils, biosorption of heavy metals, arsenic and uranium in mining wastewater, resources recovery from mineral waste
- Monitoring and sanitation of contaminated sites
- Soil conservation
- Investigation and Utilization of natural degradation and retention processes
- Transport of pollutants and transformation processes
- Interdisciplinary consideration of processes in the subsurface and their sustainable management
- Utilization of the subsurface for water treatment

---
Subject area of System Analysis
Prof. Dr.-Ing. habil. P.-W. Gräber

Large capacity simulation systems - High-Performance-Computation
Computer based consultation systems for declaration of protected groundwater areas by Fuzzy-Methods
Programming system "CAE-Grundwasser" for local defined engineer works
Methods for indirect identification of parameters for geohydraulic system parameters
Surface and ground water flow modelling and simulation programme
On-line closed loop control systems for soil and groundwater systems
Computer based consultation systems for processes in the unsaturated zone in conjunction with leachate projection, landfills and seal systems for causeys
---
Honorary Professor for Thermal Recycling Technique
Prof. Dr.-Ing. habil. Andreas Igelbüscher
Thermal waste treatment incl. air purification measures after thermal and mechanical-biological waste treatment
Influence of dry and semi-dry exhaust gas purification in kettles and reactors
---
Honorary Chair for Groundwater Pollutants
Prof. Dr.-Ing. Heinz-Jürgen Brauch
Honorary Professor für Groundwater Pollutants, Head of the Department of Water Quality Technologiezentrum Wasser Karlsruhe
Evaluation and classification of Groundwater pollutants
Criteria for a sustainable water protection, esp. groundwater
Legal frame conditions
Safety concepts for facilities dealing with groundwater pollutants